Basic Dental Care in College Park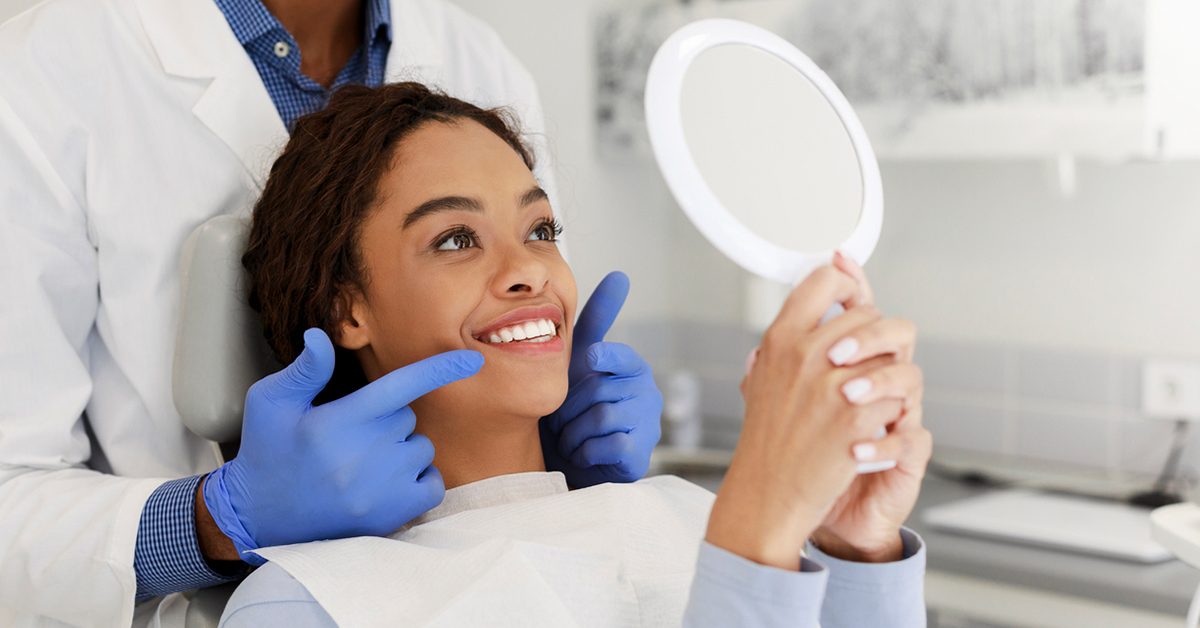 Practicing proper basic dental care at home is essential to keeping your teeth and gums healthy. Also, you need to have a dental exam every six months. At College Park Dental, we show our patients the best way to take care of their teeth at home, as prevention is always better than treating cavities and gum disease. We can be your partner in maintaining your smile for a lifetime. We recommend:
Brushing every morning and evening
Always use fluoride toothpaste
Floss at least once a day
Have a routine dental exam every six months
Call us or use our online appointment scheduler if you need a dental exam or professional dental cleaning.
The Right Way to Brush Your Teeth
Brush your teeth twice a day, preferably in the morning and before going to bed. If you have something acidic in the morning, like orange juice, brush before eating or wait 30 minutes after eating before brushing. Spend at least two minutes brushing. This can seem like a long time, but it's necessary to cover every tooth surface. Time yourself once to see if you're actually spending the proper amount of time, as many people over estimate the time they spend.
Use a soft bristled toothbrush with bristles of varying heights. A hard toothbrush can damage tooth enamel and gums. Replace your toothbrush often, at least every three to four months. A toothbrush with fraying bristles won't clean well. If you want an effective toothbrush, look for one with the American Dental Association's seal of acceptance.
When you brush your teeth, you can also brush your tongue to remove bacteria. This will make your breath smell fresh and help prevent decay. You can also buy tongue scrapers wherever toothbrushes are sold.
Why Use Fluoride Toothpaste?
Fluoride strengthens tooth enamel and reduces your risk of developing cavities. It is just as important for adults as it is for kids. Many reputable dental organizations recommend using fluoride toothpaste, including the American Dental Association and the the National Institute of Dental and Craniofacial Research. Even the Centers for Disease Control and Prevention recommends fluoride toothpaste for reducing cavities.
Flossing is Essential
Floss once a day before you brush your teeth to clean the spaces inbetween your teeth. Plaque and bits of food that remain there can lead to decay, gum disease, and bad breath. Flossing can also make your smile appear brighter. If your teeth only have a small space between them, use unwaxed dental floss. If your teeth have large gaps between them, try dental tape to make flossing more effective. Ask our dentist about water flossers if you are having trouble flossing.
Mouthwash, Diet, and Smoking
Your dentist may suggest an antibacterial or fluoride mouthwash. These can reduce bacteria in your mouth or strengthen your tooth enamel. You can also get mouthwashes that claim to help whiten your teeth or make them less sensitive. Ask your dentist about other methods to whiten or desensitize your teeth. If you're using mouthwash to freshen chronic bad breath, see your dentist to find the root cause of your problem.
When you eat or drink sugary foods and beverages, the sugar stays in your mouth and the bacteria in plaque creates an acid that will eat away at your tooth enamel. Repeated attacks from the acid will cause tooth decay. Brush your teeth after having something sugary, or at least rinse your mouth with water. Healthy, crunchy, raw vegetables and fruit are a better snack choice, as they can naturally clean your teeth. Black or green tea is an excellent choice for a beverage; the polyphenols in the tea can keep the bacteria in plaque from producing damaging acids.
If you use tobacco, find a way to quit. Tobacco use contributes to gum disease and increases your risk of developing oral cancer.
What Can Our Dentists at College Park Dental Do for You?
We enjoy helping our patients keep their teeth and gums healthy with the following preventative services:
Dental exams
X-rays
Dental cleanings
Screenings for oral cancer
We suggest you have a professional teeth cleaning every six months. This gives the dental hygienist a chance to see if there is any place you're missing in your oral hygiene routine. You'll also get your teeth professionally flossed and polished with an abrasive toothpaste, so they sparkle. We screen our adult patients for oral cancer as well. Early detection is extremely important for successful treatment.
Keep Your Smile Healthy
We urge you to follow the suggestions above to keep your teeth and gums healthy. If you need a checkup, please call us or use our tool online to schedule your appointment. We accept most major dental insurance plans and we have transparent, affordable fees. Our dentists can also help you find the products, like a toothbrush, fluoride toothpaste, and dental floss, that will make your at-home routine easy and quick. We look forward to meeting you.