Posted under:
Root Canal
Posted on: November 17, 2020
Invisalign: Frequently Asked Questions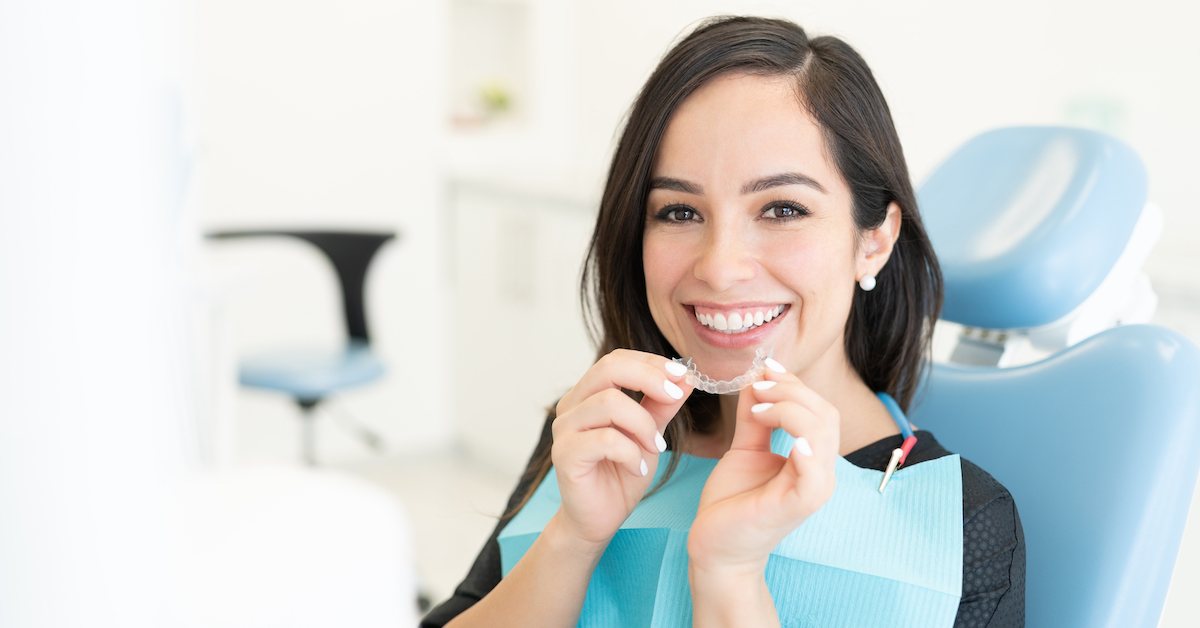 A beautiful smile can enhance your appearance immeasurably. But what if your smile isn't so great? If you have crooked teeth or other issues that make you hesitant to smile, then the Invisalign aligner trays can gently and discreetly reshape your smile into the perfect alignment. Since the trays are clear, no one will know that you're wearing braces. Many of our patients have used Invisalign trays and they are so glad they did. If you've been looking for a discrete solution to straightening your teeth, read the information below to learn more about this easy system.
What's the Invisalign System?
The Invisalign system was created by a few Stanford University students who thought there had to be a better way to straighten teeth than the wires-and-brackets method of traditional metal braces. The Invisalign system uses clear plastic trays to gently straighten and align teeth so that they move into the ideal position. The plastic is called SmartTrack®, and it's a thermoplastic that's used exclusively in the Invisalign trays. The trays are FDA-approved and contain no gluten, latex, BPA, or BPS, so they're safe for use in both children and adults.
The Invisalign plastic is very thin, and it's completely transparent. Since the trays are fitted to the shape of your teeth, they're comfortable and inconspicuous. There's no wires or brackets to cut or chafe your mouth, and they're easy to maintain. You remove them before eating or drinking and clean them daily with a special solution.
Is Invisalign Right for Everyone?
Most people are good candidates for the Invisalign system, but there are some exceptions to the rule, such as:
Those whose teeth and jaws that are still erupting or growing, such as small children and young teens.
Those who aren't dedicated to wearing their aligner trays. Although they're removable, they must be worn for 20 to 22 hours daily to be effective.
Those who are indifferent to the invisibility aspect of Invisalign. Although some people don't mind the visibility of metal wires and brackets, others, especially older adults, prefer the transparency aspect of the Invisalign trays.
Your dentist will determine if the other aspects of your teeth and gums are suitable for the Invisalign system, so call your local dentist today to schedule a consultation.
How Do I Know If Invisalign Is Right for My Teen or Me?
When you meet with your dentist for your initial consultation, they'll thoroughly examine your teeth and gums to determine your suitability for the Invisalign system. There are some types of malocclusion issues that may make the Invisalign system inappropriate, but if that's the case, your dentist will recommend the types that will work best for you. There are other options for invisible braces, so if that's a concern, then make sure you discuss it with your dentist.
What's the Procedure for Getting Invisalign Clear Aligners?
One of the most attractive features of the Invisalign system is that it's completely customized to your teeth and gums. This isn't the generic, metal, wire-and-bracket type of braces. During your initial consultation, your dentist will create a treatment plan that's customized to your unique needs, and they'll let you know what you can expect during your procedure. Usually, patients receive new aligner trays every week or every other week so that their teeth are gradually moved into the proper position.
Treatment usually takes between 12 to 18 months, but it will depend on your goals and your compliance with your dentist's directives. Usually, you'll have an in-office appointment every four to six weeks so that your dentist can monitor your progress and make adjustments as necessary. Most people begin to notice results in the first month of wearing their aligner trays, so it may be easier to adhere to the program when you can see the results.
How Will Invisalign Affect My Daily Routine?
You'll need to remove your aligner trays when you eat or drink and when you brush your teeth, which will still need to be done. Although you won't need to be concerned with food particles that are trapped in your braces, you need to maintain good oral hygiene so that the aligner trays can straighten your teeth without the need for additional dental procedures. You need to quit smoking while you're wearing your aligner trays, and you should refrain from chewing gum while you have the trays in.
Your trays should be comfortable, although you may feel some pressure each time you change to the new trays. The pressure should disappear within a few days as the teeth begin to conform to the shape of the new trays. The trays won't affect your speech, although you may need a day or two to adjust to having them in your mouth. One of the main attractions of the aligner trays is that they can be removed for important events like a wedding, a job interview or playing a wind instrument. As long as you wear them for a minimum of 20 hours daily, you can remove the trays at will.
Is Invisalign Really Invisible?
The Invisalign trays are virtually invisible, and they're considerably less obvious than the traditional style of metal wire-and-bracket braces of the past.
What Happens After I'm Done With My Invisalign Treatment?
When your treatment has been completed, you may need to wear a retainer for a while, depending on the advice of your dentist. If so, then it's most likely only at night and for a period that's determined by your dentist.
Where Can I Find an Invisalign Dentist?
Only dentists who have been trained in the Invisalign system can provide the Invisalign trays. Don't be misled by do-it-yourself claims or mail-order systems. You need to be evaluated and fitted by a licensed professional who has been specifically trained in the Invisalign system of aligner trays. If you're interested in the Invisalign system, then call College Park Dental at (301) 238-7083 and schedule a consultation. Our dentists are trained to provide Invisalign and can help you achieve the beautifully straight, even teeth that you've always wanted. Call us today. You'll be glad you did.