Posted under:
Root Canal
Posted on: November 4, 2021
What to Expect With a Tooth Extraction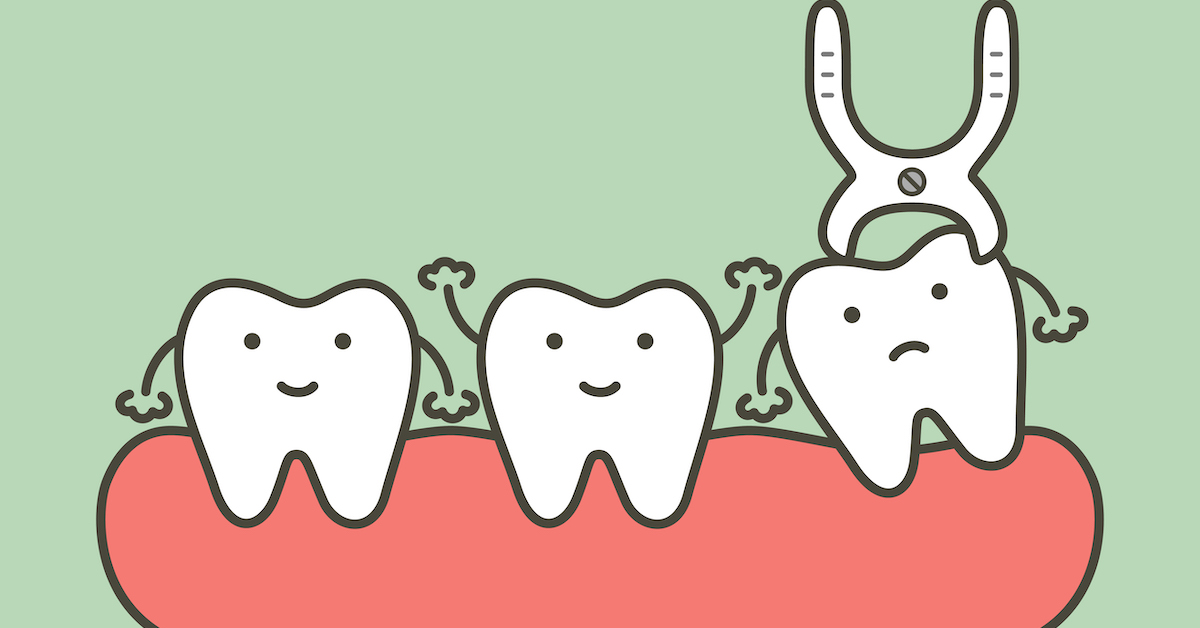 Most people don't look forward to visiting their dentists. In fact, a lot of people have a deep-rooted fear of visiting the dentist, which stems from the uncertainty of what they might hear. Paired with the noisy tools and sharp objects that dentists use, it's no wonder why people have an uneasiness around dental care professionals.
However, much of that fear is based on uncertainty. Knowing what to expect when visiting the dentist is one way to ease anxiety. One such dental procedure that people are often uneasy about is tooth extraction. After all, losing an adult tooth isn't something that they experience on a regular basis. Thankfully, you can ease some of this stress by knowing what to expect and what questions you should ask when you go to a College Park dentist for tooth extraction.
What Is a Tooth Extraction?
A tooth extraction, by definition, is the removal of one or more teeth by a dental professional. There are plenty of reasons why you might need a tooth extraction. Regardless, understanding how to prepare for it and the recovery process can ease your anxiety.
The process to prepare for an extraction actually starts at the dental office with X-rays. After a dentist decides that you need a tooth extracted, he or she will use your X-rays to determine the best way to remove the tooth or teeth. Your dentist will also discuss your medical history and the method of sedation that would work best for you.
Before Your Tooth Extraction
Before you start your tooth extraction, it's important to let your College Park dentist know which supplements you take and if you're on any medications. Certain medical conditions could put you at a higher risk of developing an infection after your extraction. Some of these conditions include:
Congenital heart defects
History of bacterial endocarditis
Cirrhosis (liver disease)
Artificial joints (such as an artificial hip or knee joint)
An impaired immune system
Once your dentist has all of your information, you'll discuss the kind of tooth extraction that you need. There are two main types of tooth extraction: surgical and simple. As the name would imply, a simple tooth extraction is the easiest. In this case, the tooth is simply loosened and then removed. Surgical removal is more complex. It typically requires small incisions in the gums to remove a tooth below the gumline.
In most cases, local anesthetics are used for both simple and surgical removals. The good news is that during the procedure, you should feel no pain. You'll feel some pressure as the dentist removes the tooth, though. If you do experience pain during the procedure, it's crucial to let the dentist know right away.
After Your Tooth Extraction
After your College Park dentist finishes with the tooth extraction, he or she will pack the tooth socket with gauze. You can bite down on the gauze to lessen how much bleeding you experience. Sometimes, dentists use self-dissolving stitches on the extraction site. After you get home, you should follow a few health care guidelines to make the experience better:
Take it easy for at least the next 24 hours.
Bite down on the gauze in your tooth socket for at least three hours to help a clot form. If the gauze is soaked, you can replace it as needed.
Apply ice to the tooth extraction area immediately after extraction and leave it on for 10 minute intervals.
Avoid laying flat. You should keep your head propped up with pillows to reduce bleeding.
For 24 hours, avoid drinking from a straw, forcibly spitting and rinsing your mouth.
After 24 hours have passed, you can rinse your mouth with a solution of warm water and salt. Try a mixture of 8 ounces of water and about ½ teaspoon of salt.
When you eat, choose soft foods, such as applesauce, soups and yogurt.
When brushing your teeth, avoid brushing or flossing the tooth extraction site.
If you're in pain, take any painkillers that your dentist prescribed as directed.
Keep in mind that there's a certain amount of pain, bleeding and swelling that you'll experience after a tooth extraction. However, you should contact your dentist right away if you experience:
Vomiting or nausea
Shortness of breath or chest pain
Chills or fever
Excessive discharge from the extraction site
Severe pain after the first four hours
Other signs of infection
In most cases, the site of your tooth extraction will take roughly one or two weeks to heal. Once it heals, you can continue with your normal oral care routine.
Are Wisdom Teeth Extractions Different?
For those who don't know, your wisdom teeth are the molars in the very back of the mouth. They can emerge on the top and bottom of your gums and typically do so during adulthood. That said, not everyone gets wisdom teeth. Sometimes, they emerge on the top but not the bottom, and vice versa, as well.
It's a pretty common practice to extract wisdom teeth, and for the most part, such extractions are done in the exact same way. Despite that, not all wisdom teeth need to be removed. Before choosing to remove your wisdom teeth, your College Park dentist will consider the benefits and risks associated with the surgery.
If your wisdom teeth come in straight and they have plenty of room to grow, you won't need them extracted. In some cases, wisdom teeth can push teeth closer together if you have lots of space between them. Other times, wisdom teeth come in crooked or never erupt, so they need to be extracted for oral health reasons.
The American Dental Association recommends wisdom tooth extraction for a few reasons. The most common are infection, pain and tumor development. Another reason is if gum disease has developed around the teeth or damage has been done to the teeth.
With all that said, some dentists won't suggest wisdom teeth removal if the teeth aren't problematic. That's because some evidence suggests that asymptomatic wisdom tooth removal can lead to other complications later, such as disease. Because of that, some dentists don't believe that the risks outweigh the benefits of removing wisdom teeth that aren't causing a problem.
Reach Out to Our College Park Dentist
Are you unsure if your wisdom teeth need to be taken out? Contact our dentist in College Park to determine the benefits and drawbacks of removing your wisdom teeth. We'll also let you know if there are any problems that your wisdom teeth are causing in terms of oral health. Our dentist will help you make the right choice when it comes to tooth extraction.